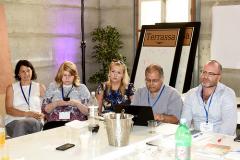 The Association of Environmental Justice in Israel (AEJI) participated at the "2015 EU Israel innovation Seminar" .
AEJI' Director, Carmit Lubanov, participated at the Engaged Society session, presented AEJI unique model of "Social-environment greenhouse - KESEM".
(In Hebrew KESEM K- for community/קהילה, S- for environment/ סביבה M – for Governance/ ממשל ) .
Please see the attached file with the graphic Model and key targets and channels/pillars of activities, part of it already on process of implementation.
The Social-environmental greenhouse structure – is a platform we initiated to build Green vision in the Arab society municipalities and provide professional tools , in a way that mobilize the local community to be engaged on environmental activities and on the environmental decision making process on their communities and on regional level.
The initiative of KESEM Model of work based on our experience in frame of our Green Vision project at the Arab municipalities at the Southern Triangle region (The region between Kafr Qassem in the south to Qallanswa at the north and includes also the villages and town of Kafr Barah, Jaljulyah and Tirah).