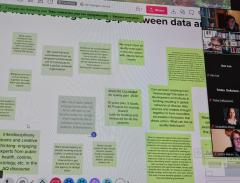 On the occasion of Air Pollution International Day a professional meeting was held aimed:
Description
To wrap up our 100 Questions Air Quality work and to mark the occasion of the second International Clean Air for blue skies Day, GovLab, World Resources Institute, Climate and Clean Air Coalition, Clean Air Fund, and Clean Air Catalyst invite you to an invitation-only discussion to focus on doing more with what we know and are learning. We hope to pool lessons from our experience in using data to motivate and guide clean air action; identify specific strategies for advancing the data-to-impact ecosystem in air quality; and identify ways that we can work together to accelerate broader access to clean air.
Session discussion Co-host by:
Gov lab and WRI, along with co-hosts Clean Air Fund and the Climate and Clean Air Initiative.
Further information will be uploaded soon.