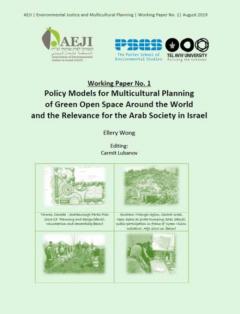 Working Paper No. 1
Policy Models for Multicultural Planning of Green Open Space
Around the World and the Relevance for the Arab Society in Israel
Ellery Wong[1]
Editing:
Carmit Lubanov
This working paper showcases the methodology of three models of public action to better understand how to incorporate the minority population in multicultural planning in rural and urban localities. It is widely supported that pluralistic planning that sustains varied cultural backgrounds leads to improved social welfare, economic welfare, resiliency, and sustainability in cities (Campbell, 1996; Davidoff, 1965; Qadeer, 1997; Sandercock, 2000). Furthermore, the built environment greatly affects the perception and outlook of everyday life and facilitates expressions of culture and social ongoing. For these reasons, we investigate the models applied to multicultural cities that successfully served the minority population, to understand which components could translate to a better consideration and wellbeing for the Arab society living in Israel [a].
In 2012 the Ministry of Housing and Construction in Israel, together with the Ministry for Agriculture and Rural Development and the Ministry for Environment Protection, published a controversial guide book for public gardens. The bookoutlined, on behalf of the Israeli government, that differing minimal requirements were recommended for green area per capita allocation for secular Jewish localities [15 square meter] compared to Arab communities [10 square meters] (Trup and Sarig, 2012). Based on this finding, the state of 'Green Open Space' on a municipal level was comparatively analyzed on national scale by AEJI in 2013, using empirical methods to survey the entire state. An 'environmental justice' database was constructed for each municipality in Israel, with each locality being addressed using five parameters (air pollution, water pollution, sewage treatment, accessibility to public transportation, and green open space) that aimed to draw practical conclusions about the environmental state of each area. In four out of five of the parameters measured, the findings clearly indicated that Environmental injustice was identified in Arab towns and villages, as those localities are also ranked at the lower socio-economic clusters, compared the Jewish localities that were surveyed. Additionally, the most profound gaps were observed from the "Green Open Space" analysis in discovering that out of the 54 municipalities in Israel (200 total) that had zero green open space, 50 of them were Arab localities.
Our research starting point is therefore challenging, since we must address not only the shortage of open spaces used for recreation and communal welfare for the Arab population in Israel, we must also work against the opposing forces of discriminatory directives by government ministries for the allocation of green open spaces. These challenges have led us to search viable models that prioritize ethnic and multicultural components, such as preserving traditions and achieving community participation, in relation to planning open space. To learn from the processes of successfully implemented models from around the world, we must understand how the ethnic population was identified, how multicultural principles were incorporated into planning, and how the scenario reflects the local, socio-environmental situation in Israel.
[1]
Ellery Wong, student at the International MA Program in Environmental Studies, The Porter School of Environmental Studies, Tel Aviv University, and research intern at the Association of Environmental Justice in Israel (AEJI), 2019. The work on 'Policy models for multicultural planning around the world and the relevance to the Arab society in Israel' initiated and conducted by AEJI.
---
[a]Inside 1967 green line borders, internationally recognized.