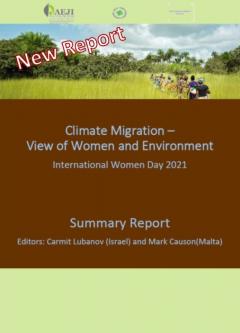 Although "Climate migration" is the result of a double and ongoing crisis that has befallen the world in recent years - the climate change and the forced migration – this field has not researched widely and the international institutions not yet recognized for climate refugees.
The world is witnessing extreme climate events occur in different regions of the world - massive floods and severe droughts that claim human lives, forcing entire communities to abandon their place of residence and move to a safer place. Some, especially the young, are even abandoning their homeland and trying their luck to migrate to Western countries to ensure themselves and their families a more secure future. The Mediterranean has become a destination of migration routes from Africa, the near and far East, Afghanistan, Syria, Iraq and other countries characterized by wars, political persecution and civil rights violations, including women and children.
The northern Mediterranean countries today and to a limited extent the southern Mediterranean countries have in the last two decades become a destination for many migrant groups and serve as 'transit stations' for many of them on the way seeking for to a better safer future.
The field of climate migration by definition is multidisciplinary and requires cooperation between international institutions and countries, humanitarian organizations and police authorities, civil society organizations and governments to offer an outline of economic development and social integration of immigrants, forced migration, with forced absorption, sometimes without resources.
Anna Lind Foundation (ALF) recently awarded a research grant to a group we are among its initiators for "Climate Change and Migration in Euro-Med region: Socio-Economic Development and Intercultural Perspective" headed by the University of Calabria (Italy) and with the participation of Association for Environmental Justice (Israel), Genista Research Foundation (Malta), Università d'Annunzio Chieti-Pescara (Italy), FHIRD- Farhat Hached Institute for Research and Democracy (Tunisia) and IMDI - Institute Migration Development and Integration (Albania). This grant is aimed for initial research, in which we will hold a workshop at the end of May 2021.
For us, who initiated the event and are part of a group of researchers and heads of organizations dealing with both climate policy aspects in the Mediterranean, and the issue of migration absorption in the Mediterranean countries - it is clear that it is important to raise climate migration on the agenda, on the academic arena, in front of decision-makers at the state and international level and among activists for civil rights and social justice.
The event we held on March 8, to mark International Women's Day, aims to raise awareness of the issue of climatic migration, and to be part of constructing a new discourse on the subject that includes both the affected geographical regions, such as Lake Chad in the African continent, and the migration absorption regions in southern Europe, such Albania and Portugal - while focusing on Women population, which according to a BBC study constitutes 85% of global climate migrants.